EVENTS
SAVE THE DATE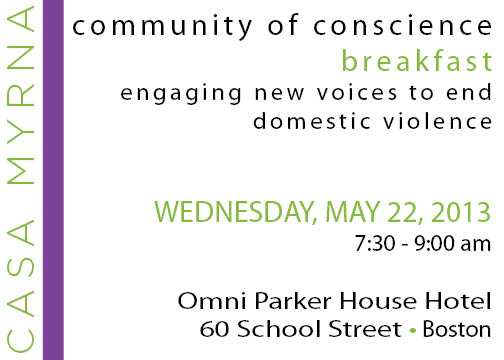 Tickets - $75
Past Events


Third Annual Community of Conscience Breakfast

May 9, 2012
7:30 - 9:00 am
Omni Parker House, Boston
Our 3rd Annual Community of Conscience Breakfast built on past success to raise $78,000 on Wednesday, May 9th at the Omni Parker House Hotel in Boston. Nearly 200 people attended, raising funds for the agency's vital residential and supportive services for survivors of domestic violence. Every year the Breakfast highlights the agency's efforts to build a community of conscience where domestic violence is no longer tolerated or ignored. The event exceeded its goals thanks in part to our corporate sponsors, including Natixis Global Asset Management. Other revenue came from donations made at the breakfast, a generous match provided by long-time supporters Laura and Eric Peterson, and ticket sales.
The Breakfast featured a moving all-male speaking program. Angelo McClain, Commissioner of the Department of Children and Families delivered the keynote address urging men to get involved in ending domestic violence. The Commissioner was preceded by Board Member José Rosado and a 15-year old high school sophomore who moved many in the room to tears with his poignant account of the road he and his mother traveled from homelessness to safety, shelter and then permanent, affordable housing, with the help of Casa Myrna.
Click here to view the Breakfast photo album

Second Annual Community of Conscience Breakfast
June 8, 2011
7:30 - 9:00 am
Omni Parker House, Boston

By every measure, our second annual Community of Conscience breakfast on June 8th was a resounding success. The 150 guests were joined by members of the family of Mary Foreman, for whom our Emergency Shelter is named. Traveling from as far away as California, they presented a moving tribute to their late mother and followed that up with a generous donation in support of the shelter. More donations followed from the guests in attendance. Their generosity, coupled with a dollar-for-dollar challenge match in the room and the support of corporate sponsors, helped us meet our goal for the event.

Keynote speaker Nadine Walker Mooney closed the program with a moving and often wrenching account of the domestic violence she experienced, and which culminated in a savage attack that left her blind. Courageous, resilient and undaunted, Nadine now speaks about the issue of domestic violence, often in conjunction with Massachusetts First Lady Diane Patrick. Also on the speaking program was Lt. Governor Tim Murray, who urged those in the room to support ongoing efforts in the Commonwealth to end domestic violence.
If you're interested in having an event to benefit Casa Myrna, please click
here
for more info...