EVENTS
Save the Date for the 2014 Community of Conscience Breakfast!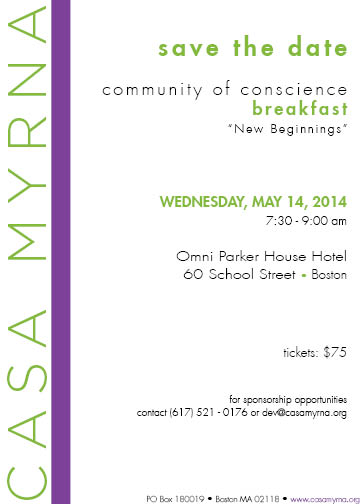 Thank you to our generous sponsors!
Highlights from 2013's Breakfast:
4th Annual Breakfast Raises Funds and Awareness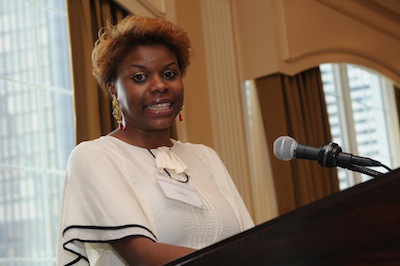 Fatou S. spoke about her experiences
as a survivor and guest at Casa Myrna
The 4th Annual Community of Conscience Breakfast on May 22, 2013 was a wonderful success, raising funds and awareness about Casa Myrna's work to deliver solutions to end domestic violence.
Speakers included Transitional Living Program resident Fatou S., Board member and South End Community Health Center pediatrician Dr. Robyn Riseberg, Boston City Councilor Ayanna Pressley, and Marie Turley, Executive Director of the Boston Women's Commission.
We appreciate our sponsors' generous support of the breakfast (listed below). We are particularly grateful to Laura and Eric Peterson for providing an outstanding $10,000 gift to match all contributions made at the event. This helped us raise a record $20,000 during the breakfast.


(Left to Right) Board Members Dr. Robyn Riseberg and Annie Lewis-O'Connor, Councilor Ayanna Pressley, and Fatou S. at the Community of Conscience Breakfast
Spring 2014 Events
Join us and our partners for the following events. Click on the event title for more information...
White Ribbon Day (Thursday, March 6, 2014) - Men throughout Massachusetts take the pledge to be part of the solution in ending violence against women. Visit the website to learn more about events by Jane Doe, Inc. and other organizations.
Moving Women's Wages Forward Locally & Globally (Friday, March 7, 2014) - This International Women's Day event is co-sponsored by Casa Myrna and will take place 7:30am - 9:30am at Simmon's College. Click on the event title to join the discussion of women's wages and register for the event.
A Celebration of International Women's Day (Saturday, March 8, 2014) - Please join the Boston Public Health Commission, the Resilient Sisterhood Project, the Association of Haitian Women in Boston and their partners as we recognize International Women's Day. The event "Charting a course for Health Equity in our Communities," will take place at the Boston Public Library-Mattapan Branch from 12:30-3:30pm, celebrate women's achievements, and discuss areas where progress is still needed. There will be a screening of the short film "When the Bough Breaks," and a discussion with Dr. Yvonne Gomez-Carrion, an OB/GYN at Beth Israel Deaconess Medical Center and Assistant Professor at Harvard Medical School, and panel. Lunch provided. For more information, please contact Vivien Morris at 617-534-9642 or VMorris@bphc.org.
Cambridge Cooperative's Vagina Monologues (Friday, April 11 - Sunday, April 13, 2014) - Showings will take place at 2:00pm and 8:00pm at the Cambridge YMCA Theater. 90% of proceeds from the performances will go to Casa Myrna.
Keeping the Faith: Uniting DV, Homeless, Legal & Faith-based Communities (Thursday, April 24, 2014) - We invite you to come and discuss ways to make these systems work together to benefit survivors of domestic violence. The event will take place at the Northeastern University Curry Center, from 8:30am - 4:00pm. Click for registration.
Boston Marathon: Support Team Casa Myrna (Monday, April 21, 2014) - Team Casa Myrna will have seven runners represented this year at the Boston Marathon. Support our team today!
Raise Your Voice (Saturday, April 26, 2014) - Casa Myrna will provide workshops at Raise Your Voice, which is led by Ayanna Pressley, Boston City Councilor. At this event, Councilor Pressley invites girls and women of all ages to talk openly about sexual assault and learn skills to empower and protect themselves. More information to follow.
Ultra Violet (Saturday, May 3, 2014) - Event to be held at hte Harborside Inn Lounge in Boston, with proceeds to support Casa Myrna. More details to follow about this fun evening that includes auction items, dancing and more.
Trisha Bennett 5K Run (Sunday, May 4, 2014) - Register now for this inspiring 5K, organized by the Trisha Bennett anti-violence project. All proceeds from the run will go to Casa Myrna.
If you're interested in having an event to benefit Casa Myrna, please click here for more info...