A Message from Our Board Clerk, Lennox Chase...
"My sons give me hope for the future - that one day no child or parent will experience domestic violence. Your gift today will help make that a reality."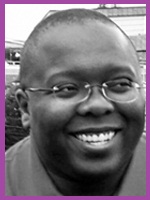 Dear Friend:
At Casa Myrna, we mark the holidays with a celebration. Our families receive presents from Santa, and enjoy a fun and relaxing evening. When I arrived at last year's party, it struck me: "This was my mom and me." Thirty years ago, we experienced domestic violence. I actually grew up in the same neighborhood as the house where that party took place. We didn't know about Casa Myrna or have its support like more than 30,000 people did this past year.
I'm now on the Board of Casa Myrna, championing its efforts as Boston's leading provider of services to domestic violence survivors. When I attended a domestic violence training for other Board members and staff, I heard words like, "cycle of violence," "trapped" and "powerless." These were words my mom and I experienced for decades- -and kept us in our situation. Even though my...Click here to continue reading.
Casa Myrna Featured in PSA
Casa Myrna has partnered with Secretary of State William Galvin to publicize the Massachusetts Address Confidentiality Program. Click here to view the PSA!
Support Our 2014 Boston
Marathon® Team
Casa Myrna was awarded four bibs for the 2014 Boston Marathon®! Help support our runners in raising $35,000 to deliver solutions to end domestic violence. We are grateful to the John Hancock Non-Profit Marathon Program for their generosity. Our four runners have set ambitious goals - help them by clicking here. While you're there, be sure to check out our team members' giving pages to learn more about these outstanding men and women.
Celebrating the 20th Anniversary of our Teen Parenting Program
Join us in celebrating the 20th Anniversary of our Teen Parenting Program. Since 1993, the program has supported hundreds of pregnant and parenting teens and their children. To mark the occasion, we are creating a library and reading area at the house. We invite you to purchase new children's, young adult, and adult books for this space. Click here to buy a book. If you would prefer to donate money towards the library, donate here.
ELEVATE Boston
Casa Myrna is part of the ELEVATE Boston coalition. A major coalition of advocates, organizations, residents and community activists, we called on the Boston mayoral candidates to pledge that they will support our issues. Mayor-Elect Walsh signed the ELEVATE Boston pledge! Read more about our three areas of policy focus: health equity, economic equity, and safe communities for all.